Tracing the History of the Mimosa
As the renowned story goes, the birthplace of the mimosa was the upscale Ritz Carlton Hotel in Paris, a place frequented by leading businessmen and cultural icons of the time. This lusciously sparkling concoction is attributed to barman Frank Meier who introduced it to the world in 1925. It didn't take long before the cocktail claimed its place as a best seller at the hotel, capturing the hearts of many including the legendary film director Alfred Hitchcock. By 1936, the recipe had traversed oceans to grace the American cocktail scene, redefining the brunch culture and even edging out the Bloody Mary in popularity over the recent decades.
Celebrating National Mimosa Day
Mark your calendar for May 16th; a day dedicated to honoring this beloved brunch cocktail. As the day beckons, establishments across the nation gear up to serve enticing mimosa deals, with some even offering sparkling delight for free to patrons. The celebration sees a blend of lavish parties featuring expansive mimosa bars to low-key home gatherings where a refreshing homemade mimosa steals the show.
We would like to remind you that there is no one way to enjoy National Mimosa Day. While some revelers find joy in restaurant specials, others find satisfaction in hosting cozy brunch parties right in the comfort of their homes. The joy of this day is the freedom it grants you to celebrate in a manner most personal and enjoyable to you.
Mimosa Recipes to Try on National Mimosa Day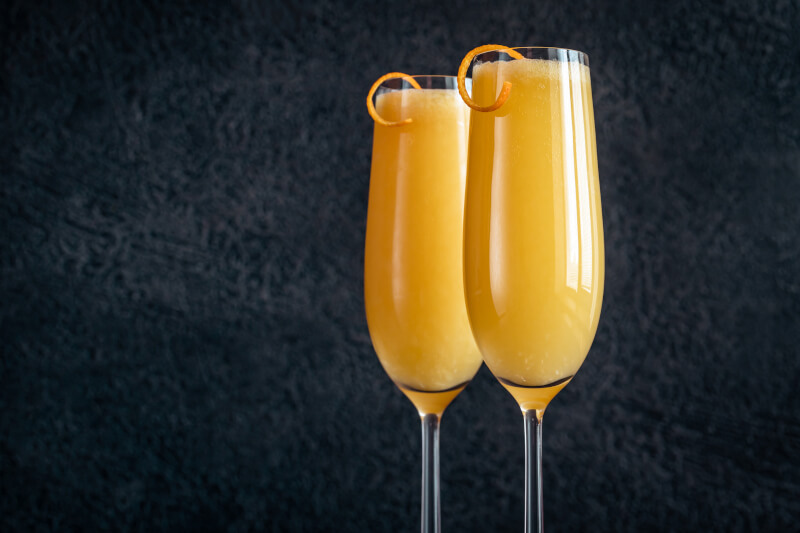 On this prestigious day, you have the license to get creative with your mimosa. The traditional recipe demands a simple fusion of sparkling wine and orange juice, but you need not limit yourself to the classics. Here are a few recipes that might tickle your fancy:
Bellini Mimosa
The Bellini Mimosa takes a delightful turn from the classic mimosa by substituting orange juice with peach juice. To prepare this, follow these steps:
Ingredients

Sparkling wine (of your choice): 4 oz
Peach juice: 2 oz

Method

Chill your sparkling wine and peach juice before use.
In a champagne flute, pour the peach juice followed by the sparkling wine.
Stir gently to combine and serve immediately.
Tropical Mimosa
Welcome the vibrant flavors of the tropics into your glass with the Tropical Mimosa. The recipe is as follows:
Ingredients

Sparkling wine (of your choice): 4 oz
Pineapple or mango juice: 2 oz

Method

Ensure that your sparkling wine and chosen fruit juice are well-chilled.
Begin by adding the fruit juice to your champagne flute.
Top it with the sparkling wine.
Stir gently to integrate the flavors and serve chilled.
Berry Mimosa
Introduce a vibrant note to your mimosa with the addition of fresh berries. Here is how you can prepare a Berry Mimosa:
Ingredients

Sparkling wine (of your choice): 4 oz
Orange juice: 2 oz
Fresh berries (raspberries/blueberries): for garnish

Method

Start with chilled sparkling wine and orange juice.
In a flute, add the orange juice followed by the sparkling wine.
Garnish with a couple of fresh berries before serving.
Herbal Mimosa
The Herbal Mimosa brings in a refreshing blend of lemonade with hints of herbs to tantalize your palate. To craft this, follow these instructions:
Ingredients

Sparkling wine (of your choice): 4 oz
Herbal lemonade (infused with mint or lavender): 2 oz

Method

Prepare herbal lemonade by infusing lemonade with your choice of herb — mint or lavender — and allow it to chill.
In a champagne flute, add the herbal lemonade first.
Top with a generous pour of sparkling wine.
Stir lightly to combine the flavors and serve chilled.
In each of these recipes, the proportion of sparkling wine to the non-alcoholic component maintains a 2:1 ratio, adhering to the classic mimosa blueprint while introducing novel flavors that refresh the traditional approach.
The Top Sparkling Wine for Mimosas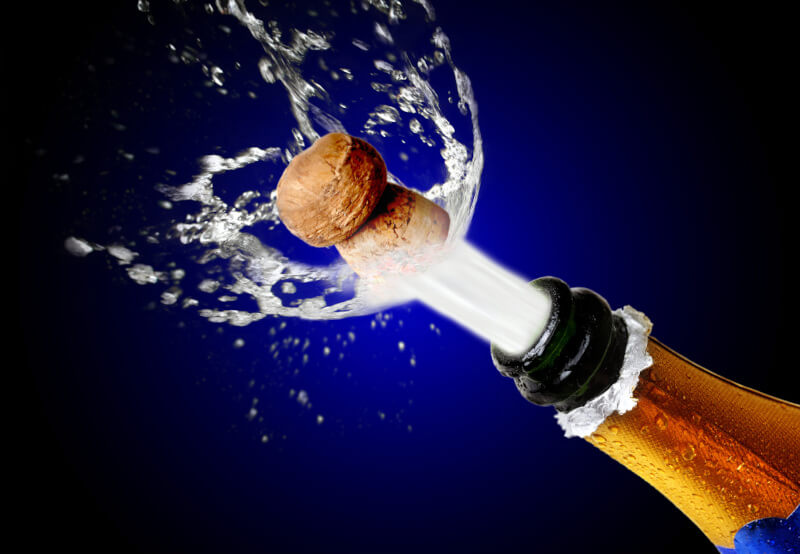 The quality of your mimosa significantly hinges on the choice of sparkling wine. While it is true that you can utilize any sparkling wine to craft a mimosa, the final sensory experience varies immensely with your selection. Here's a rundown of some options you might consider:
Champagne: Recognized globally for its fine bubbles and exquisite notes, using champagne promises a superior texture and a splash of luxury in your drink. It pairs best with a slight addition of orange juice to maintain its rich profile.
Prosecco: This Italian sparkling wine brings forth a texture-rich mimosa, thanks to its large bubbles. It is a favorite for many, sitting at an attractive price point without compromising on quality.
Cava: Stepping in with refreshing notes of green apple and pear, this Spanish sparkling variant offers consistency and affordability, making it a popular choice for many mimosa enthusiasts.
Sparkling Rosé: Particularly suited for specialty mimosas, the sparkling Rosé introduces a wonderful variation when paired with lemonade, giving rise to the "Pink Lemonade Mimosa".
Mimosas and Brunch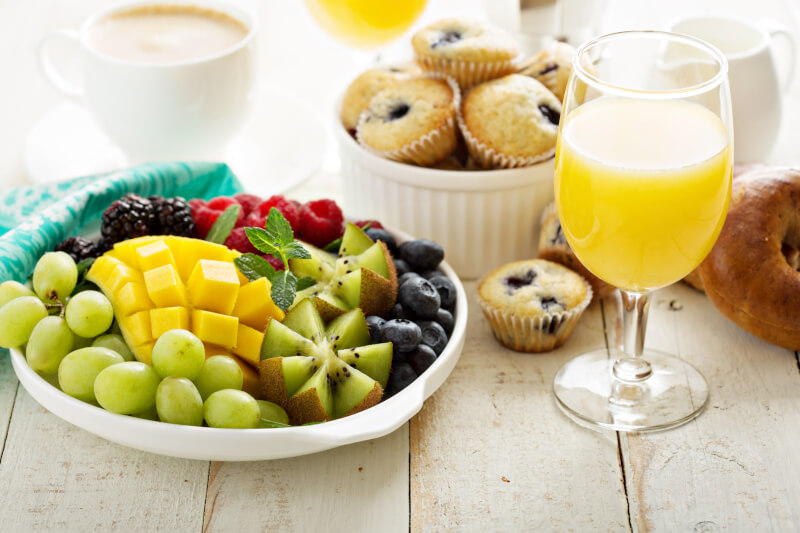 In recent decades, brunch has risen to become a weekend mainstay in the American dining scene. The gathering often sees friends and families coming together to indulge in a laid-back meal, and it's hardly complete without the presence of mimosas. This sparkling beverage has indeed become synonymous with brunch, overshadowing even the renowned hangover remedy, the Bloody Mary.
While the Bloody Mary commands a reputation as the "hangover drink", the mimosa stands as the drink to "kickstart the party", embodying a joyful spirit that is both refreshing and light. The vibrant culture of brunch in the U.S. promotes camaraderie, boosting the mimosa to a signature beverage, a must-have in the delightful brunch experience that brings people together at least once a month. As you gather with your dear ones for this cherished ritual, it's useful for you to know some potential food pairings that can uplift your brunch experience with mimosas:
Classic Breakfast Items
Consider pairing your mimosa with classic breakfast items such as avocado toast, a staple that offers a creamy texture and a refreshing taste, creating a harmonious blend with the crispness of your beverage. Eggs Benedict, with its rich hollandaise sauce, can also find a vibrant counterpart in the light and bubbly mimosa.
Seafood Dishes
For those who have a penchant for seafood, a seafood platter or a smoked salmon bagel could be your go-to choice. The saltiness and the distinctive flavors of seafood dishes balance nicely with the sweet and acidic notes of mimosa, providing a rounded and sophisticated palate experience.
Sweet Delights
If your brunch leans towards the sweeter side, you can never go wrong with a stack of pancakes or waffles, drizzled with a generous amount of maple syrup. The sweetness from the syrup pairs beautifully with the citrus notes of the mimosa, resulting in a delightful contrast that dances on your taste buds.
Vegetarian and Vegan Options
We haven't forgotten our vegetarian and vegan friends! A vegetable quiche, a hearty salad, or both, could be great options. The freshness of the vegetables harmonizes well with the refreshing notes of mimosa, guaranteeing a light and satisfying meal that leaves you feeling invigorated.
Cheese and Charcuterie
A well-curated cheese and charcuterie board can be a true star at your brunch table. The variety of textures and flavors from different cheeses and cured meats provide a playground for your taste buds, offering a myriad of pairing possibilities with the different notes in a mimosa.
The mimosa has formed such an integral part of the brunch menu that many restaurants maintain a steady stock of sparkling wine exclusively for crafting this beloved cocktail. The practice of offering "bottomless" mimosa deals has also become a prominent feature in many eateries, encouraging patrons to indulge to their heart's content without burning a hole in their pocket, thanks to the generally affordable ingredients involved in its preparation.
Be it a brunch gathering at your favorite local eatery or a relaxed celebration at home with a self-made mimosa crafted from the finest sparkling wine, May 16th stands as a day to appreciate the joyful spirit embodied by the mimosa.